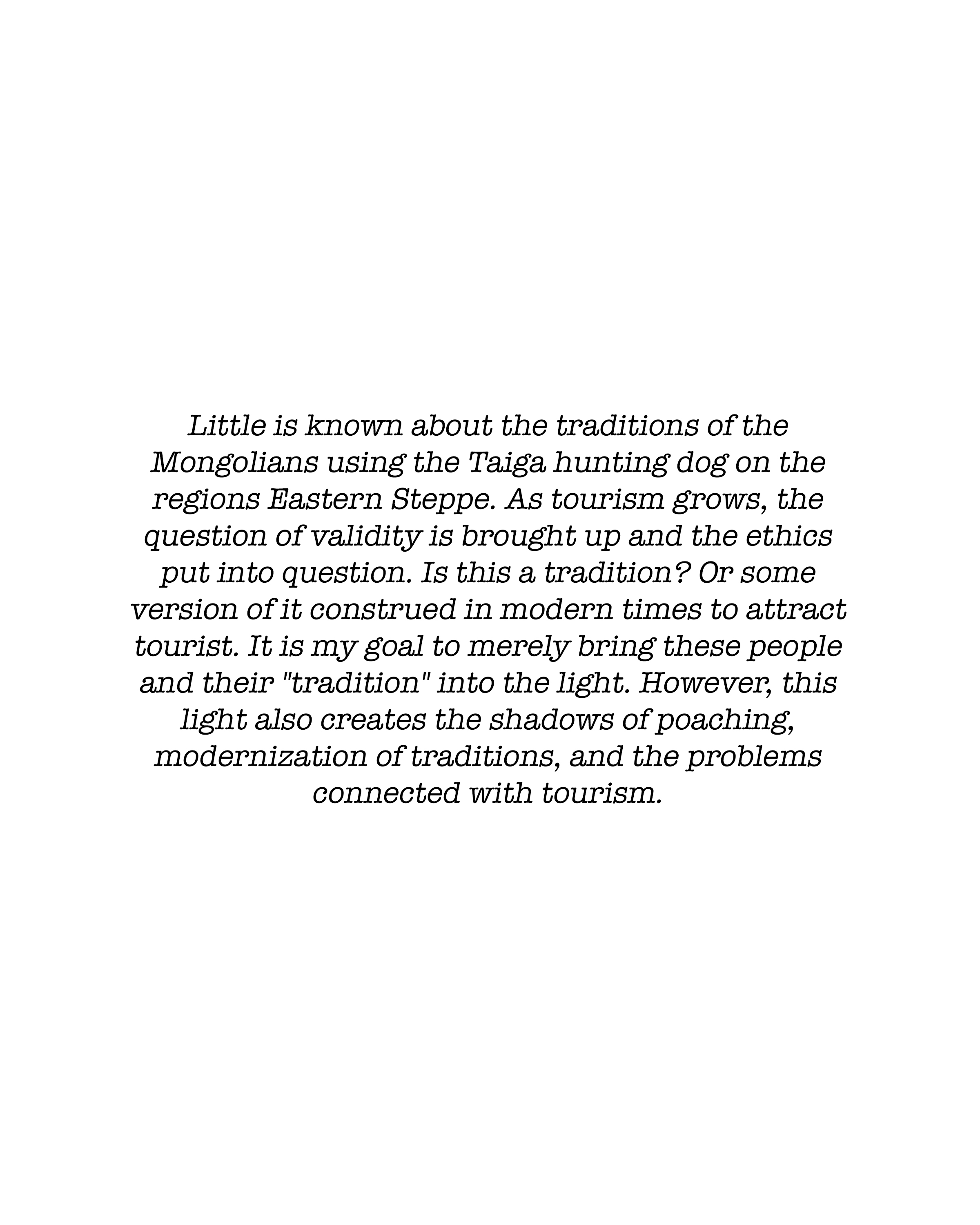 Father and son, along with three Taiga hunting dogs traverse a hill side. Once at the top they will work their way down the draw attempting to flush any small game hiding in the shrubs. The furs are used for clothing and sold to markets. Depending on the animal, the meat and other parts will be used for food, medicine, or sold to the Chinese black market.
Two young dogs with their unique collars, worn only by Taiga dogs.
Mongolians use their horses to herd live stock, travel between neighboring gers (yurts), and in conjunction with the Taiga dog. Special leashes made from woven leather and hand foraged swivels made from silver tether the dogs to owners while they ride.
A boy demonstrates how he rides at high speeds with one of his dogs leashed. Built much like a grey hound, Taiga dogs are built for speed, a necessary skill on the Eastern Steppe where much of the game is extremely fast. Yet they are robust enough, with thick fur and muscular shoulders, to withstand the harsh winters and fend off wolves.
In 1990, Russia turned the country over to the Mongolians after nearly 70 years of communism. The Mongolians were left with infrastructure they didn't know how to use and no modern means of business. They fell to old hunting traditions, but with a modern twist, Russian rifles and the Chinese black market. Surveys done in the 2000's reveled a million dollar poaching industry arising.
Near a family's ger in Khentii Province, there used to be a herd 40+ sheep in neighboring the hills. But, now the numbers had dwindled to only 2-3.